Corebridge application integration gateway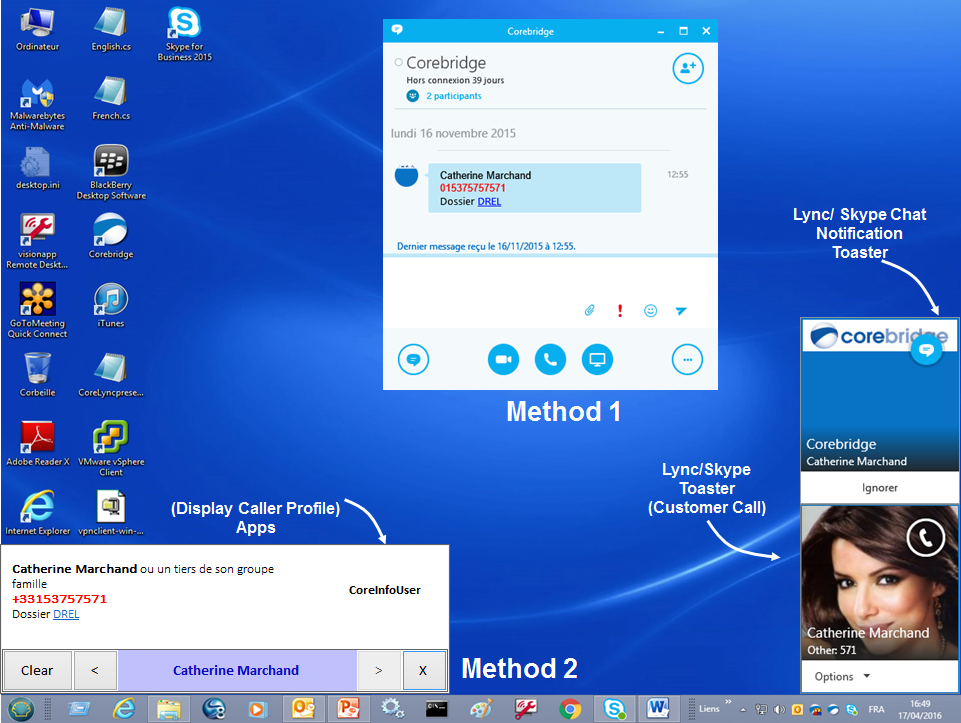 Corebridge Apps gateway bridges the gap between the company information systems, Lync-Skype for Business and the company telephony infrastructure. It allows screen pop of the caller profile from 3rd party application in Microsoft Lync- Skype and other customer environment. Call Control is driven by Lync, Skype for business or by other 3rd party client application.
Features Highlights ...
1. Display caller profile :While Call Control is driven by Lync or Skype for business client application, users can display the caller profile (from 3rd party application) by using one of the following methods:
Caller profile is displayed using Lync/Skype chat toaster.
Caller profile is displayed using lite client application with no GUI.
2. Call Identification: Calls are identified by using one of the following methods:
Either from external database accessible through a DREL layer

Or from the Corebridge Meta directory.
3. Call Flow (Call scenarios): Call is tagged with contact profile where context can be displayed among the following call scenarios:
Either upon receiving direct call on the user's desk phone,

Or when call is transferred to another user of the same site (i.e. assigned to the same PBX) or to a user assigned to a different site (different PBX) – multi-site environment

Or, when call is indirectly received from an IVR or from a call center telephony platform.
4. Phone Device: Caller profile is delivered regardless the type of the phone devices used by Lync or Skype for Business users (desk phone, DECT, Mobile or headsets).
5. Centralized administration.
The Apps Gateway uses industry-standard Telephony interfaces to control PBXs:
Supports most corporate PBXs such as Cisco, Alcatel, Avaya, Ericsson, Nortel, NEC, Siemens, Panasonic, Mitel, IPC, Etrali, Philips, Samsung...