Corebridge Wireless Interactive Native Global Services (Wings)
Corebridge Wings delivers communications-enabled business processes to remote workers via their existing mobile devices.
"Wings" enables mobile employees to remain always connected with their company telephony and information systems. Employees are more accessible and productive while on the move. With Wings, mobile phone users take advantage of unified communications technologies previously reserved to desk phone users. These benefits include the visibility of real-time presence, device monitoring and identification of mobile calls from the company contact directory. "Wings" bridges the gap between enterprise and mobile communications, allowing true integration employees' presence through Computer Telephony (Mobile) Integration (CTI). Call history, personal call routing, monitoring of all calls made and received on mobile device-are captured in an integrated reporting format. Easy to install and configure, Wings offers freedom to work anywhere, anytime, enhancing productivity, lowering costs, and improving communications across the enterprise. "Wings" removes the necessity for a company to center its work flows on the traditional PBX. Mobile device integration with an organization's applications is achievable wherever you wish to work from. So data-sharing and compliance can be enhanced for a workforce that may be in different locations using any mobile network operator.
Many mobile developments are focusing on the Web 2.0 market and social networking. Corebridge stands apart because its mobility software brings the cost savings and productivity gains of unified communications to remote workers.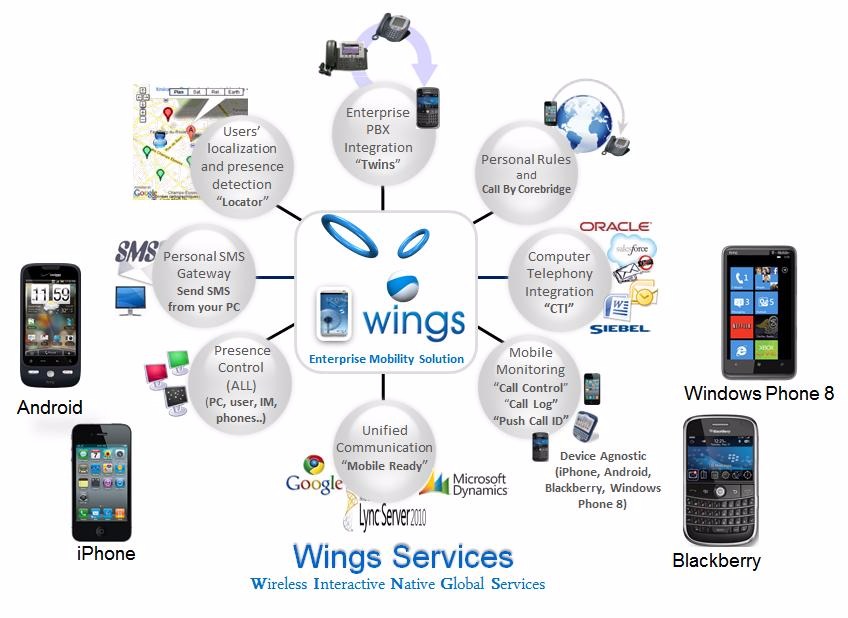 Corebridge Wings solution supports Android and iOS operating systems